html>

Manchester Terriers and Doberman Pinschers
All The Right Stuff
The Toy Faction
Ch. Rustic's Petite Fleur V Shal-Mar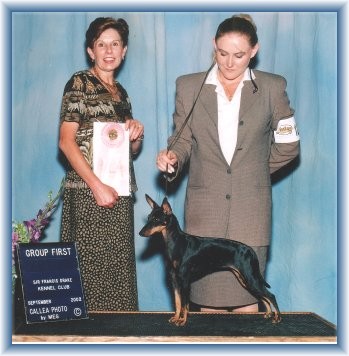 The "Tool"
Bred by David/Carolyn Horowitz~Betty Hodges/Phil Shane.
"Tool" hit the show ring at 6 months 3 days of age. She finished
her Championship at 7 1/2 months with a Puppy Group I to her credit.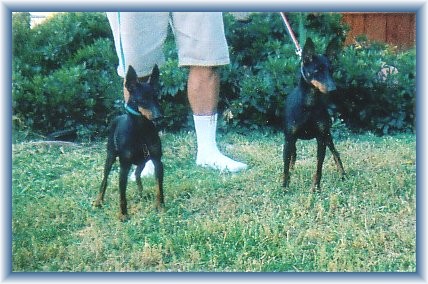 Ch. Rosewood Independence and Ch. Rustic's Petite Fleur V Shal-Mar
~ The Tool Box (Litter) Is Here! ~
The "Tool" is owned by Gerrie Hart.
The Sire is bred/owned by: Darrell/Betty Hodges.
Inquiries Welcome!!
For more information, email or write to:


~ Ms. Gerrie Hart ~
P.O. Box 692871
Stockton, California 95269
Phone: (209) 477-9607
Previous
Next
Click Photo for Shal_Mar Dobermans
Home Raised/Family Oriented


Please do not take any graphics from this site without permission.
All graphics on this site are owned by and in possesion of the Webmaster
You Are Visitor #

Since June 6, 2003
This page hosted by